This machine appears to have been manufactured in the 1960's. it includes a 3-color color changer, a cordinated ribber and manuals. It is in very nice shape and works very well. Some interesting features: the yarn holder is mounted on the carriage and moves with the carriage...no loops at the edges. Also, look where the row counter is...its also on the carriage.

These two pictures (above and below) show the machine set up, with the ribber installed and connected and the yarn carrier attached to the carriage.
This machine has a several unique features:
1) It does not require and clamps to attach it to the table, it sits on rubber fett that hold it in place well.
2) The ribber inserts into the main machine and requires no further clamping either. It has one position, does not drop down out of work, etc. but can easily be lifted off when the ribbing is completed and set aside until needed again. No adjusting necessary either.
3) Note the little black wheels in the accessory box, these are patterning wheels, they snap into the underside of the carriage and select predetermined needles, allowing for pattern knitting. The tension dial on the carriage also is used in conjunction with these dials.
4) The tension dial on the main carriage also has settings for use when ribbing. No tension settings on the ribber carriage. The ribber is every other needle only.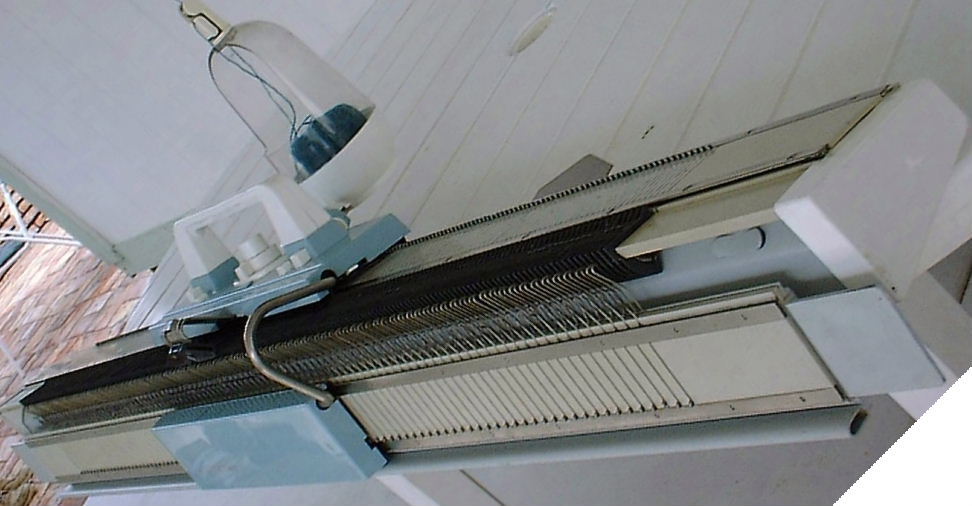 Knitting in progress on the machine.